[ 1 ] Canterbury Pilgrims Assembled at the Old Tabard Inn, Southwark
(watercolour 1870 - private collection).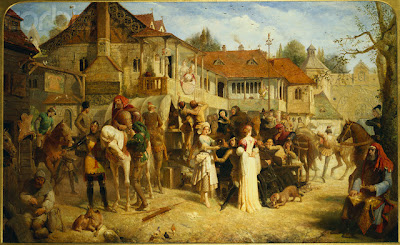 [ 2 ] Pilgrims en route to Canterbury (watercolour April 1873 - private collection)


[ 3 ] Trompington Melle - Simond [The Reeve's Tale] (watercolour 1883 - private collection)

Edward Henry also made illustrations for a book containing Chaucer's Canterbury Tales published by George Routledge and Sons, c.1840. The illustrations are simple ink sketches, not at all ornate in the way of steel engravings in which Edward Henry's illustrations were most often printed.