Also see examples of Edward Henry's paintings of scenes from the Canterbury Tales
Edward Henry Corbould: The Poultry Girl 1842
See two versions of this painting
Edward Henry Corbould: Girl with Shrimp Net 1843 (private collection)

Edward Henry Corbould: The Swoon c1870 (private collection)

Edward Henry Corbould: The Orange Girl 1881 (this work appears to be a sketch for a costume maker - maybe for a client attending a fancy dress ball) (private collection)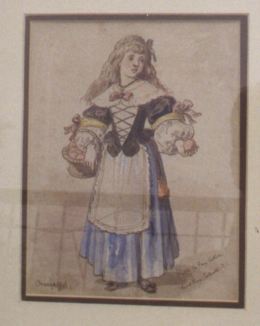 Edward Henry Corbould: Three Legs of Man. The owner has advised that this small painting (dated 25 April 1896) was painted by EHC and given to James Cowle, a prominent architect on the Isle of Man at that time. It is thought by the Cowle family that EHC made the painting in (part?) return for architectural services. Several of EHC's daughters from his first marriage were educated on the Isle of Man - see Section VI p38 of The Corbould Genealogy.
Click image for more detail
Edward Henry Corbould: Astarte (Queen of the Morning Star; Goddess of War) 1887 - a stunning watercolour (private collection):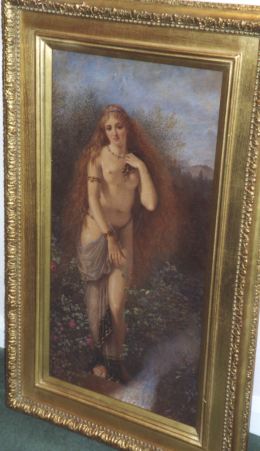 ... and for contrast, an 1836 illustration by EHC's father Henry Corbould in a book containing a collection of Byron's poems. How fashion changes!